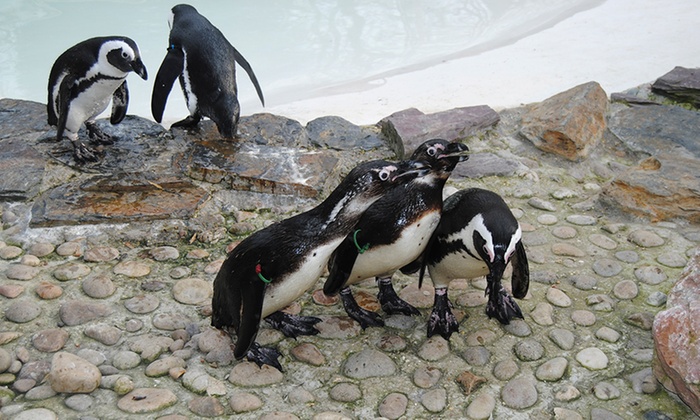 This deal from Groupon
Animal Sponsorship Experience Pack Plus Two Zoo Tickets for £29 with Ginicam (41% off)
The Specifics
Help contribute to an animal's welfare with a bronze sponsorship package from Animal Experiences. The six-page personalised sponsorship pack contains a host of facts and images about them, as well as augmented reality app features to bring the animal to life on a compatible device. The pack also includes six Ginicam sessions over six months, in which the recipient can meet a zoo keeper on the site and text chat about their animal questions. Animal lovers will also receive two tickets to a participating zoo or aquarium in the UK.
Animals Available to Sponsor:
Meerkat | red panda | African lion | penguin | lemur | reindeer | boa constrictor | tiger | macaw
Participating Zoos and Aquariums:
The Scottish Deer Centre | Woburn Safari Park | Caerlaverock Wetland Centre | Yorkshire Wildlife Park | The Raptor Foundation | Paradise Wildlife Park | Old MacDonald's Farm | The Living Rainforest | Dudley Zoological Gardens | Twycross Zoo | Shepreth Wildlife Park | The New Forest Wildlife Park | Isle Of Wight Zoo | Tropiquaria | Shaldon Wildlife Trust | Bristol Zoo | Colchester Zoo | Welsh Mountain Zoo | Newquay Zoo | Linton Zoo | Blackpool Zoo | Paignton Zoo | Dartmoor Zoo | Wildwood | Blair Drummond Safari and Adventure Park | Galloway Wildlife Conservation Park | Chestnut Centre | Dublin Zoo | UK Wolf Conservation Trust
The Merchant
Webcasting site Ginicam aims to bring people together in a digital environment, exchanging services, products and digital content. Partnerships have offered everything from entry to group 'webinars' with famous faces from the silver screen to social clubs and live music webcasts.