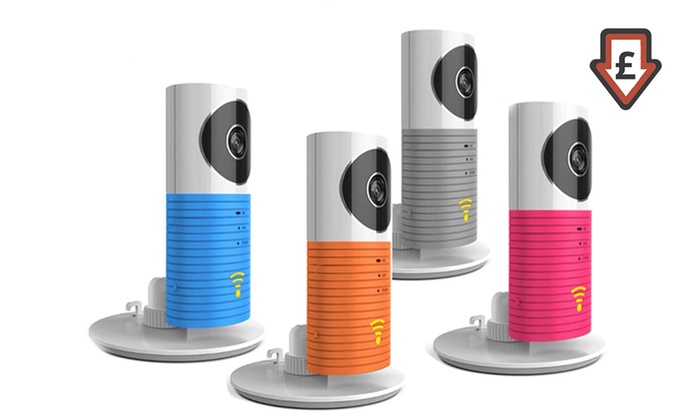 This deal from Groupon
Clever Dog Wireless Wi-Fi CCTV Camera with Option to Include 32GB Micro SD Card
The Specifics
Featuring a built-in microphone and speaker, this wireless CCTV camera transfers alarm messages to a smartphone or tablet
This Clever Dog CCTV camera connects easily to home Wi-Fi. It can stream to multiple devices and be viewed over an Internet connection anywhere in the world. Use it to remotely monitor business, office or home. Parents can keep an eye on the elderly or children making sure they are safe. Users can also share exciting moments with friends thanks to the real-time video capture and microphone function. Since the camera detects movement, it can also be used to prevent any type of theft during the day and night.
Today's Groupon offers a Clever Dog wireless CCTV camera.
Option to buy one or two wireless cameras
Can stream to multiple devices and be viewed over an internet connection
Built-in microphone and speaker with full-duplex speech support
Real-time video capture allows watching live video
Motion detection
Real-time alarm
Auto-capture dynamic images
Transfers alarm message to a smartphone or tablet
Intelligent video recording with quick reviewing
Recordings can be shared by P2P services
Wi-Fi: IEEE8012.11b/g
Power: DC 5V, 500mA
Micro USB port
Video: H.264 with 720×576 resolution @15fps
Night vision: built-in photographic lenses, automatically enabled infrared LED under low illumination
Available with a MicroSD 32GB card
Colours available: blue, orange, grey, and pink
Dimensions: 8.5cm x 8.5cm x 11cm
Box Contents
One Clever Dog camera
One approximately 5ft USB power cable
One mounting base for camera
One pack of four wall plugs and screws for securing to the wall
One User Guide
Technical Set-Up Tips
Download the mobile app: search for Clever Dog on the Apple Store or Google Play
Ensure the camera is connected to a USB port or a USB Wall Plug
Open the app and create an account. Then click on the + to add the device
Press the camera icon and pair the camera: press the button at the front of the camera and hold for a few seconds, the red light will go out and then a blue flashing light will appear
Follow the on-screen instructions – WiFi password will be required
Pairing will take under a minute Full instructions are included.