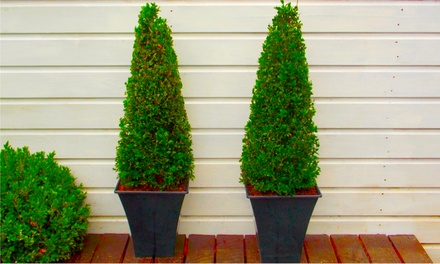 This deal from Groupon UK
Two Topiary Buxus Pyramid for £29.99 With Free Delivery (60% Off)
These Evergreen plants with their glossy green leaves can create stylish focal points on patio, courtyard or garden spaces
Choose from the following options for topiary plants, distributed by Gardening Express:
£29.99 for two topiary buxus pyramid (60% off)
£34.99 for two topiary buxus pyramid in black or silver flared planters (53% off)
The Specifics
Suitable for flanking steps, doorways and paths
Option to include contemporary black or grey flared-design planters
Approx. height with planter is around 50cm-75cm
All-season, indoor or outdoor with evergreen leaves
Can purchase buxus feed and stainless steel topiary sheers to keep plants pristine
Images shown are for guidance only of the expected results from plants upon maturity. Different growing conditions may vary results.
Customers should check whether plants are suitable for their homes and gardens before purchasing.